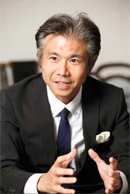 Conveying the phrase "a business that is needed by the region" to all our employees as a key word, we will strive to be an infrastructure company that is beloved by the people of the region.
Thank you for your continued patronage of our company Haruyama Group.
After its establishment in 1974, our company group quickly established a base of operations in the western Japan area, and since then we have been making steady progress in spreading across the country while advancing into major urban areas such as Osaka and Tokyo. With the suburban suit store "Haruyama" as our flagship, we are a leading clothing chain store in the suits industry exceeding 200 stores in 1995, 300 stores in 2004, and 500 stores in 2016 including subsidiaries.
Our group is proud to have accomplished steady growth by continuing to practice our founding philosophy of "Better Products for Lower Prices". In addition to our pursuit of high quality and high functionality, we promote the development of products which add the kind of novelty demanded by the times, while also staying one step ahead by always anticipating customers' needs and making proposals in cooperation with material manufacturers and sewing companies, and working hard to provide out products to these customers at a valuable price. In the future we intend to maintain stability in our existing operations through the creation of valuable products, effective deployment of new stores, and thorough customer satisfaction activities while following our management philosophy of "the customer comes first".
On the other hand, we believe it is necessary to develop new businesses connected with IT advancements and M&A in order to achieve good business results in an ever-changing environment. In terms of IT advancements, we will increase the productivity of each of our employees utilizing the latest technologies while thoroughly providing products and services listening to our customer's opinions. We will also strive for expanded growth routes not limited to suits by engaging aggressively in purchasing and cooperating with companies that have the potential to produce synergetic effects with our existing business. Our goal is to be a service that is essential for the people of the region--in other words and "infrastructure company".
The source of our successive production of hit products and new products since our founding has been the ethos of anticipating things in advance that lives and breathes within our company. We will make efforts to create a company environment that will allow us to resolutely face new challenges in the future. We will continue making our utmost efforts to satisfying all of our stakeholders including our shareholders, and we humbly ask for your continued support.